Easy Duck Breast Pate
By Castaway Lodge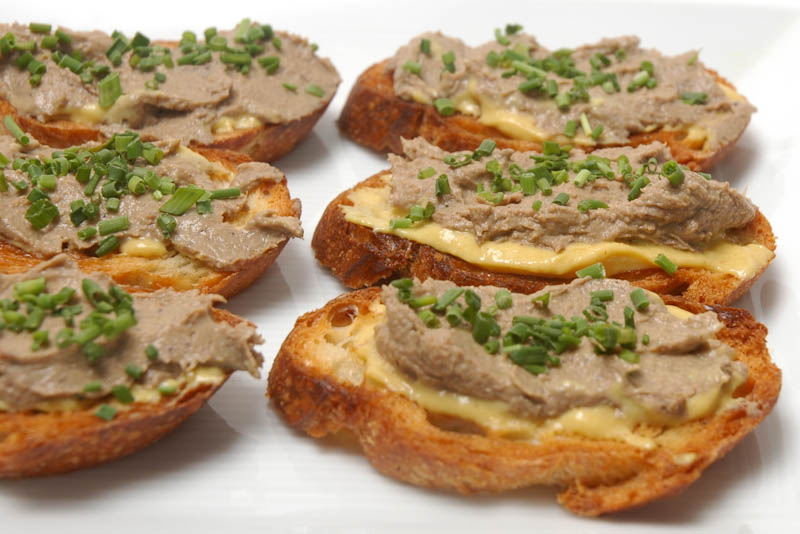 Ok, this isn't for everyone but if you like dark meat, chicken liver, gizzards, and savory foods, you may love this. I had it once at a dinner party years ago and never forgot it. I found a great recipe to start with and then I came up with my version that's both easy and delicious. Find this recipe also on our Pinterest page.

Ingredients

6 wild duck breast medallions
2 tablespoons olive oil
1/4 cup chopped white onion
jar of minced garlic
6 pickled jalepenos, remove seeds and chop
12 ounces of cream cheese, softened
1 tablespoon of mayonnaise
1/2 teaspoon basil
Tony Cachere's Cajun Seasoning or salt & pepper to taste
Tabasco sauce
Fresh parsley, chopped

Preparation
Season duck breasts with liberal Tony Cachere's or salt and pepper and cook in olive oil until well done. Let it cool and then put the breasts in a food processor and puree to a fine powder. Remove the pureed breasts and put aside in a medium large mixing bowl.
Into the food processor, add onion, jalepenos, basil, 2 tablespoons of minced garlic and process until minced and add to the mixing bowl with the pureed duck breasts. Into the bowl, add one 8 oz. box of softened cream cheese (microwave it slightly if too hard) and the mayonnaise. Beat ingredients with a mixer until smooth and well blended. Remove from the bowl and mound onto a plate, sculpt into a loaf and form a flat top and four sides. It's possible to put this into a mold but I'm not too sure about getting it back out so I haven't tried it.
In a clean mixing bowl add the remaining 4 ounces of cream cheese with one tablespoon of minced garlic, add a dash of Tony's or salt and pepper and about 1 teaspoon of Tabasco or to taste. Mix the ingredients to make a spreadable frosting for the loaf. Spread the mixture over the top and sides of the loaf and allow it to chill and firm up.
This is best served over some toasted french bread slices or in a pinch crackers will do. Guests at the lodge have devoured this and I just can't stay out of it.
Smoked Duck Breast Medallions
I have also smoked the duck breasts in a batch and frozen them in 6 medallion packages. When making the pate, I thaw out one of the packages and start at the beginning of the recipe cooking in olive oil to get them a little more crispy for processing. It's a little more involved but also delicious adding smoke flavor to the pate.