Castaway Lodge Seadrift Report
By Capt. Kris Kelley
Fishing Report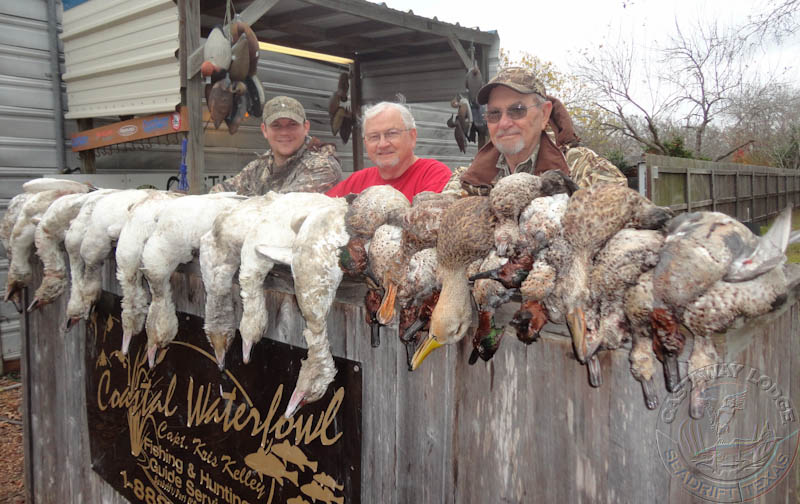 We've been struggling on the fishing with the sporadic nature of fishing this time of year. We try to pick the days and then having lost track of them on weather, finding them has been a challenge. Capt. Chris Cady scouted ahead of trips late week and knocked them out just to return with clients the next day on changing weather and struggled. Randall Reeder host of KNG Chronicles told me one time that "God doesn't have a problem with me catching and killing animals, he's just got a big problem with me getting it on film". Sometimes we could substitute "getting our guests on them"!
Duck & Goose Hunting
Big weather catalysts have been the difference between pulling the trigger and staring at the sky here lately. Pattern shoots on wind with velocity have been the difference between solid straps of mixed puddlers and divers or laying up with the sun tan oil catching some rays. Goose hunting has had a big set back as every square inch of ground in this area has gone under plow and that's the KOD (kiss of death) for geese and the rest of the season. That is unless we get a clover bloom pretty quick which might spread them out a little.
Like my grandmother used to tell me, "if you want to go on a great hunt, you've got to go on them all" and that will be the epitaph for this season as we put it to bed on 1/26.
Check dates and inquire at
http://www.seadriftbayfishing.com/Calendar
Like us on
Facebook
or Pin us on
Pinterest
and we promise to "love you back"!
Capt. Kris Kelley
Castaway Lodge
1-888-618-4868
www.seadriftbayfishing.com
Facebook: Castaway Lodge
Pinterest: Castaway Lodge