Castaway Lodge Seadrift Report
By Capt. Kris Kelley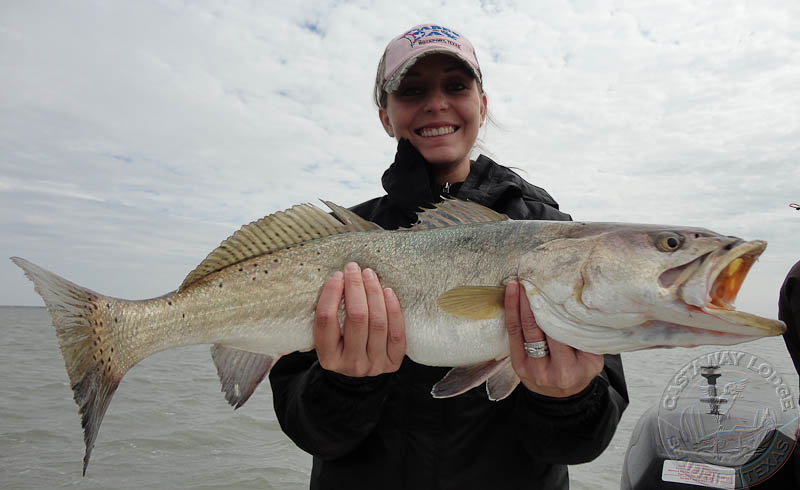 Pre frontal sputterings in the fishing reports have been replaced by fast and furious action over mud/grass on Redfish solidly in the slot along with Trout taking center stage to 27". Capt. James and Capt. Chris had heavy boxes of Redfish heading into the weekend. Saturday mornings cold front was a reasonable introduction to things to come while a reinforcing blast on Sunday left some wishing for heavier clothing, me included. I grabbed the medium jacket thinking "there's no way I need my bull blown waterfowl parka". About an hour into the trip or so I was getting cold and one of the guests was really cold....then the wind and cold kicked into another gear and I thought this just isn't going to cut it. We managed to work up a half limit of Redfish and the thought of firing up the motor and running into the wind wasn't real attractive but that's what we did.
Bow-up:Warm Up
Best bet is to get the rods bowed-up which will warm up just about any situation. Easing into a windward setup we managed to intercept Redfish pushing 26" and feeding aggressively. I looked over at Tracy C. as she rared back on the hookset and about 20 feet from the boat I'm thinking "Big Trout"! Sure enough as the fish approached the boat I could see she had a real bruiser Trout on her hands, lip hooked and fairly docile in the cold weather. That made for a great hook extraction and a perfect setup for a quick picture and an eager release by everyone on board. The Trout measured 27" and appeared to be looking to drop some eggs a little late or was just chock full of bait fish. On the middle coast, Trout in the 27-30" class are among the largest we encounter.
Fishing in tough weather is made much more enjoyable with the right gear. The rewards, like Tracy's Trophy Class Trout, are among the characteristics that seldom deter us from the effort. So gear up heading for the water, and I'd say "take the next bigger jacket"!
Forward Looking Statements
With Trout positioning better over shell as we push into November, we're looking for some decent action in between weather events. Shifting "seasonality" on Trout and cooler weather just make for a great day on the water. Come see us when you get a chance!
Like us on Facebook and we promise to "love you back"!
Capt. Kris Kelley
Castaway Lodge
1-888-618-4868
www.seadriftbayfishing.com
Facebook: Castaway Lodge