Castaway Lodge Seadrift Report
By Capt. Kris Kelley
Six and One-Half Dozen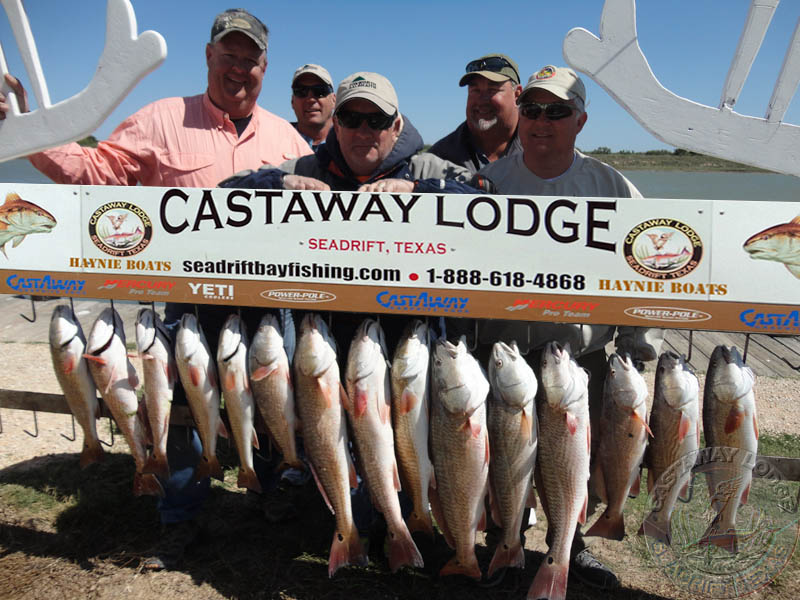 Big weather revisited us starting with what I call "an inbetweener" on Thursday. Hitting the water Thursday with guests found mild winds early and scattered fish. An "inbetweener" is a setup of winds and water conditions that don't provide any "go to pattern". It can be a day where water conditions don't lend themselves well for explosive Trout fishing and winds don't favor a focus on Redfish. There are a number of different scenarios that I've labeled an "inbetweener" and they can be among the most difficult to find a solution for.
With Thursday's "inbetweener", big winds hit us around 2:00am and raked the bays. Leaving the ramp, we found mild winds but the bays were very off color all the way into the back lakes. Capt. James dialed in on fish he'd been working to find full limits of Redfish for Ashley C. and guest. I found wildly scattered Redfish over mud and grass and a very lack luster bite. With a great deal of effort, we managed 4 Redfish and 7 Black Drum with the guests elated with the results given the conditions.
Friday's Siberian Express
We welcomed a four boat, two-day trip with a National Lumber supplier and there was no "inbetweener" here. Winds raging from the North and treachorous water conditions strongly pointed to a North wind pattern. Water levels fell to extreme winter-time low conditions exposing congregating schools of Redfish and Black Drum. Unlike the "inbetweener" the day before, North wind patterns fully engaged finding fish working pockets of green water. Fall out locations also found fish dropping into them and that produced some excellent catch and release action. We managed full to near limits of Redfish to 31" or Black Drum on 3 out of 4 boats.
Weekend Aftermath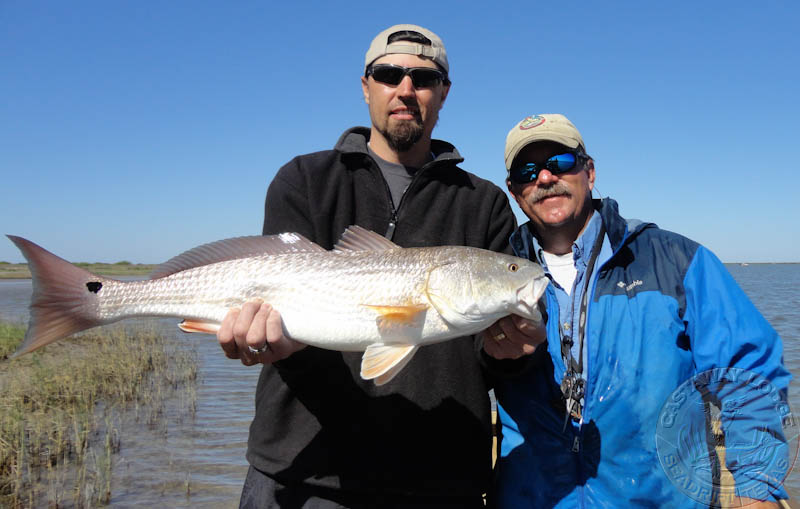 Winds were forecasted light at less than 5 knots but fortunately they picked up into the 10-15 range and switched direction. Extreme low water made for challenges but left a lot less locations to look at. The wind direction shift brought a quick rebound to water color in a lot of locations with full limits of Redfish and some solid Trout coming to hand for some of the boats.
Time will tell if this strange weather is pointing to anything meaningful. From the water's edge, you can't help but take notice of the very unusual weather. As we begin to find some stability in the weather, I'm looking for Trout action to really take off with the emphasis on Redfish moving more toward seasonal norms. I take my hat off to the Capt's of Castaway Lodge for meeting the challenges head on and the team work keeping the guests on fish. Come see us when you get a chance.
Like us on
Facebook
or Pin us on
Pinterest
and we promise to "love you back"!
Capt. Kris Kelley
Castaway Lodge
1-888-618-4868
www.seadriftbayfishing.com
Facebook: Castaway Lodge
Pinterest: Castaway Lodge