Castaway Lodge Seadrift Report
By Capt. Kris Kelley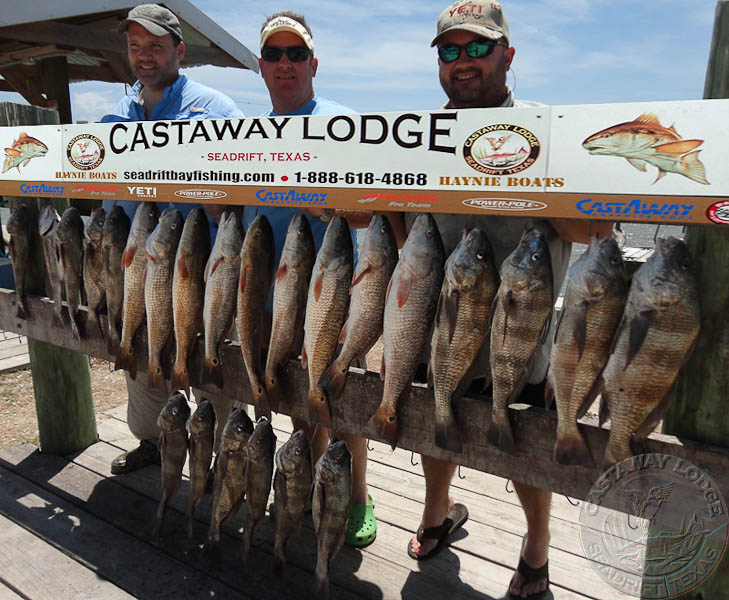 Big winds mid to late week made the fishing a lot better than the catching for a lot of folks. It's been a roller coaster of late with fish that are hard to pen down. One days success leads to the next days head scratcher. One days head scratcher can lead to the next day pulling your hair out. I've said timing has a lot to do with fishing success and sometimes the gears just aren't meshing properly. That can cause the wheels to fall off with a mental battle brewing as if you were a cat in a room full of rocking chairs. When the gears start meshing again, the sunrise looks a lot more vivid.
Such is a life on the water at the pinnacle of hot pursuit for any gamefish. August is a month marking the beginning of transitions toward cooler weather. We'll see more wind directions out of the North and NE swirling; Teal hot on the wing and Dove over water and grain; big Texas Lizards; and lets don't forget a lot more pleasant conditions working on the deer lease. That's enough to get the juices flowing for sure!
We will be looking for a rebound in Trout action over shell reefs working various techniques from Popping Cork/shrimp/arts to straight soft plastics. When it comes to full blown Redfish action, Fall is prime time on the bruisers. We'll be working shallow bays and back lakes looking for tight schools intermixed with Black Drum.
For now what's been working best is mud/grass; sand/grass with Capt. Doug reporting Trout to 23" off grass over the weekend. Redfish from all over the slot and above have been coming off sand/grass and sand/shell here lately but they have been a bear to dial in.
We hope you are getting some of this rain of late, clients of ours up in the Georgetown area have had nearly 6" in the last few days and that's got them jumping for joy! Come see us when you get a chance!
Like us on
Facebook
and we promise to "love you back"!
Capt. Kris Kelley
Castaway Lodge
1-888-618-4868
www.seadriftbayfishing.com
Facebook: Castaway Lodge