Castaway Lodge Seadrift Report
By Capt. Kris Kelley

Sponsored by:
Mercury Marine; Air Ranger Airboats; Haynie Bay Boats; Baysport Marine Victoria; Castaway Rods; JL Marine; Pure Fishing; and, Bob's Machine Shop.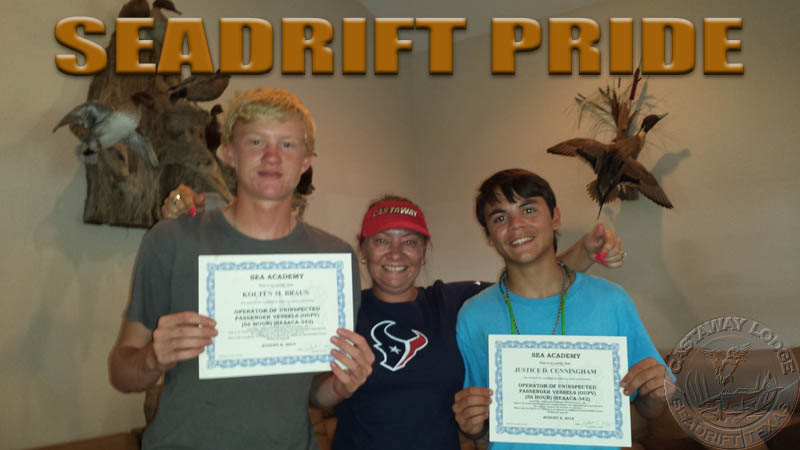 This week was filled with pride and lots of great fishing. Our "young guns" blew the smoke off the end of their pencils and twirled them into their holsters acing the Sea Academy regimen with some remarkable academic scoring. Kolten and Justice both started decking and helping during waterfowl season for us at 15 and now at 17 they've completed the necessary requisites for obtaining their Capt's. licenses when they turn 18. We salute you!
Fishing - Super Charged Super Moon
On the fishing scene, wade fishing approaches took a breather of late on big winds with boat fishing protected areas for Redfish outperforming. We've had some fair returns noting Trout to 24" wade fishing shorelines along with scattered Redfish tight to grass lines. Boat fishing remains a Redfishing game with fish all over the slot; scattered Black Drum; and, limited windows for Trout. With winds puffing all night we are facing broad turbidity on open bay structure late into mid-day. When we can get situated in a little transitional water it's a guessing game where the Trout may appear. The window of opportunity is pretty narrow to start sorting through vast amounts of potential real estate.
Alligator Season/Dove/Teal
We are working to fill up week days during the fast and furious September 10th to 30th time frame. We invite you to be our guest in one of the last special places on earth, the middle Texas Coast. Come see us!
Check dates and inquire at
http://www.seadriftbayfishing.com/Calendar
Like us on
Facebook
or check our
photos on
Flickr
and we promise to "love you back"!
Capt. Kris Kelley
Castaway Lodge
1-888-618-4868
www.seadriftbayfishing.com
Facebook: Castaway Lodge
Pinterest: Castaway Lodge