Castaway Lodge Seadrift Report
By Capt. Kris Kelley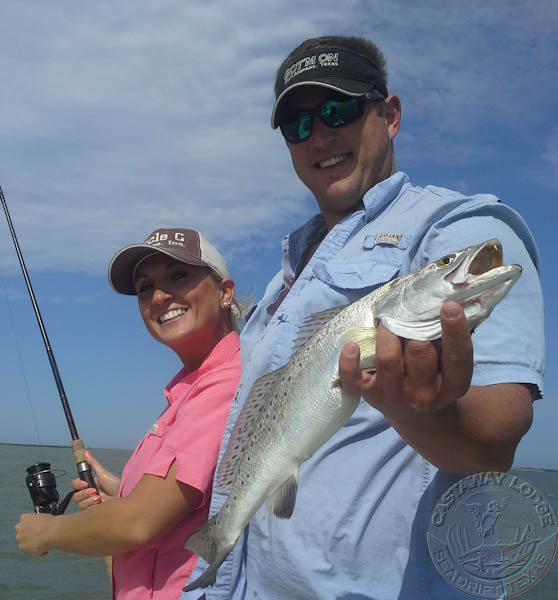 The weatherman missed the call in a big way for this past weekend. Late week Trout action spiked on Saturday with strong feeding as low pressure passed to the North of us. Forecasts for heavy rainfall didn't materialize and guests of the lodge had a great time. OU football players from the mid 60's reunited ahead of a bachelor party taking Trout to 19" working mud/shell. The Taylor D. bach party on Friday fought intermittent rain with puffing winds but everyone managed to catch some fish with Capt. Chris taking top spot working the back marsh by airboat and a solid box of Redfish.

For the weekend we welcomed Kelly C. and guests from SA; former Lt. Governor Bill Hobby and family pilot Bob C. and guests; along with Abilene native Gary P. I dismissed any concerns over weather given wind forecasts less than "gale force" for the first time this Spring. Sure enough, rains came through lightly overnight with the worst weather to our North. With a small delay in the departure we quickly went to work on Trout to 20" over mud/shell in nagging East winds at 15 and puffy.
On Sunday Trout action waned a bit with higher East winds but we managed full limits with some catch and release for Gary P. while Capt. Chris ran into scores of tight lipped back lakes Redfish on an airboat trip.

Outlook

Trout action is forecast to continue getting better as weather stability and seasonal norms are realized. Redfish and Black Drum continue to impress.

Like us on Facebook or Pin us on Pinterest and we promise to "love you back"!

Capt. Kris Kelley
Castaway Lodge
1-888-618-4868
www.seadriftbayfishing.com
Facebook: Castaway Lodge
Pinterest: Castaway Lodge