Castaway Lodge Seadrift Report
By Capt. Kris Kelley

Sponsored by:
Mercury Marine; Air Ranger Airboats; Haynie Bay Boats; Baysport Marine Victoria; Castaway Rods; JL Marine; Pure Fishing; and, Bob's Machine Shop.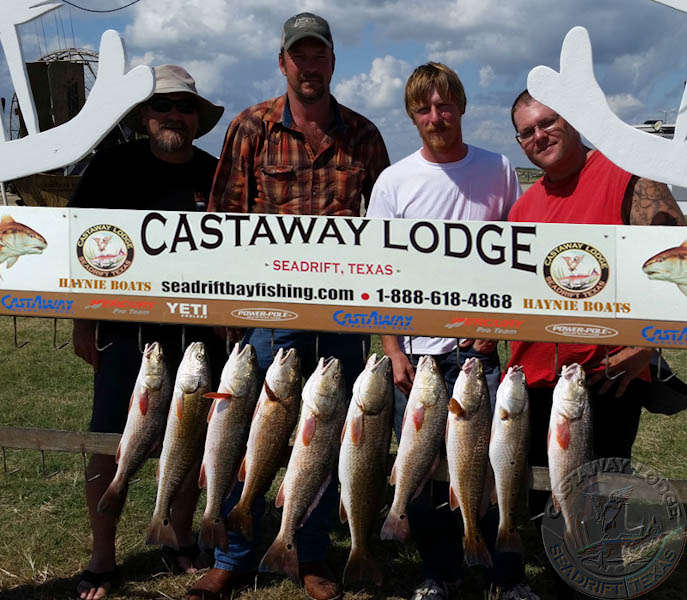 Weather has been tremendous as we head into the end of the month and the approaching 2014 Texas Waterfowl Season. Big tides and mild weather opened up mid-bay shell with Trout, Redfish, and Black Drum working shell reefs and shorelines. Popping cork/gulp and topwaters accounted for decent catches of Trout with bait taking redfish and black drum limits to near limits.
Challenge of the Week
Trout on a fly rod along with Redfish and Flounder for guests with Steelhead equipment in from Alaska. Capt. James Eastep definately had his hands full on that one and my hats off to him for getting the mismatch on fish. The long rodders managed a Texas Slam including Trout, Redfish, and a Flounder for the effort. Sight casting proved productive on the Redfish but many were just undersized. It just goes to show that where there is a will there's a way and if they're thick enough, anything will do the trick.
The day before this trip I had a fair number of tailing and backing fish working slick water lea-lines on a shallow flat opposite a deeper mud pocket where we were catching some fish. This would have been a sight casters dream come true. I went to make a small boat adjustment stealthily on the fish that were showing off. While I was making the move, a guest managed to drop the "ice chest lid" and it sounded like a bombshell in the boat and that was the end of that. Fish in 8" of water with zero wind just won't put up with that. Hey, it happens, while I was not amused, you can't help but smile!
Waterfowl Season
It's a pretty quick count down to the opening of the Texas Waterfowl Season. Light numbers of Redheads, Pintails, and a few Wigeon have been cruising around getting comfortable with their Winter abode. We've got a ways to go before things are going to feel "solid" on the numbers side, however. We'd love to move some water out of the bays before the heart of the migration, so any near term fronts will be most welcome.
We'd like to thank everyone joining us for the season. If you haven't made hunt arrangements yet, we'd like to encourage you to take a look at some of our remaining weekdays for a trip with us and come see us when you get a chance!
Check dates and inquire at
http://www.seadriftbayfishing.com/Calendar
Like us on
Facebook
or check our
photos on
Flickr
and we promise to "love you back"!
Capt. Kris Kelley
Castaway Lodge
1-888-618-4868
www.seadriftbayfishing.com
Facebook: Castaway Lodge
Pinterest: Castaway Lodge