Castaway Lodge Seadrift Report
By Capt. Kris Kelley

Sponsored by: Mercury Marine; Air Ranger Airboats; Haynie Bay Boats; Baysport Marine Victoria; Castaway Rods; JL Marine; Pure Fishing; and, Bob's Machine Shop.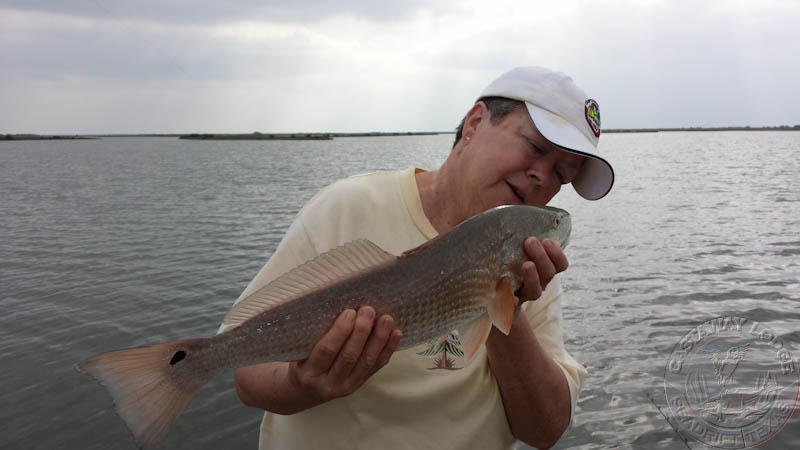 We've had a recent huge water fall out, it's so stark I keep looking for a tidal wave to come rolling over the outside beach any time. Vast stretches of the back lakes are dry and we've got more than a few fish trapped in small lakes looking for the exits. The low water has made for epic days hunting Redfish lately with extreme visual fishing. Backs and tails abound and sight casting has gone to a new level as Steve N. and guest found out over the last couple of days.
We're seeing ballistic bites with 30 and 40 foot runs as the fish burn through 8" of water screaming to try and throw the hook. Steve and his brother are Bass Fishermen and they've been releasing all the fish with the exception of a few badly hooked fish. That's made for a lot of lucky Redfish lately.
We've got a lot of great fishing ahead and we will see the winds level out as we approach June. That should finally open up the big water and shell for a closer look at Trout that Mother Nature has thrown a protective blanket on this Spring so far.
We hope your fishing has been catching! We hope to see you and your guests when you get some time off and want to spend it with great folks at one of the last special places, Castaway Lodge. Come see us when you get a chance.
Check dates and inquire at
http://www.seadriftbayfishing.com/Calendar
Like us on
Facebook
or check our
photos on
Flickr
and we promise to "love you back"!
Capt. Kris Kelley
Castaway Lodge
1-888-618-4868
www.seadriftbayfishing.com
Facebook: Castaway Lodge
Pinterest: Castaway Lodge