Castaway Lodge Seadrift Report
By Capt. Kris Kelley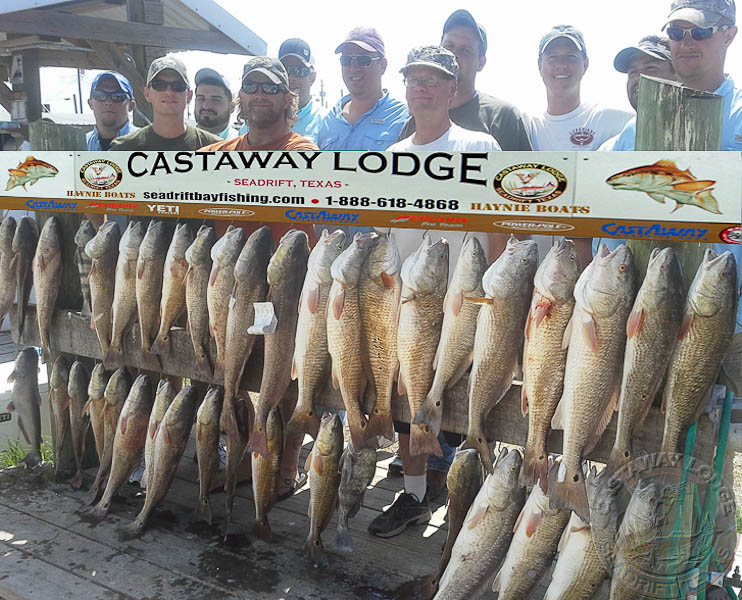 It's just that time of year again when hard weather will flip things on its head. Yesterday's cold front conditions were a stark contrast to fishing on Saturday. A couple of guests didn't prepare well and even turned down an extra jacket before hitting the water, big mistake. At one point, one of the guests on my boat was "done" in about an hour. There isn't anything worse than seeing a guests cringing behind the console completely miserable and incapacitated while the other guests are hell bent for action. Fortunately, I had multiple layers on and was able to give up my jacket as I got more active netting fish. I'll never forget the words of an old time watermen who told me "if it's under 80 degrees and you are going on the water, you will need a jacket for sure". That has been a benchmark for me to this day some 20 years later. Well yesterday's weather required more than a wind breaker for sure.
We've hit the water the last few days going deep in the action with strong Redfish action in heavy winds and now cold front conditions. On Friday, with 6 boats on the water entertaining a builder group, the boys went deep into backing taking full limits of Redfish with numerous oversize and lots of catch and release. Fast forward to Sunday and we lost better than a foot of water from the upper bays and yesterday's hammer hole may now be todays mud hole. I decided to focus our efforts on falling water and quickly ran into a nice bite on lower end Black Drum which quickly turned Red to 27". Capt. Chris worked the back marsh by airboat taking advantage of rising water. So you might take note that there are two approaches here, falling water in the upper bays and rising water on the barrier island. Both present an excellent opportunities for great success.
We are certainly welcoming the cooler weather and there just isn't a better time to get on some fish. In focus, in bound migrations of Pintails, Teal, Gadwall, Widgeon, with big duck season just around the corner. We saw a few nice flocks yesterday and I'm sure more are on the way. Come see us when you get a chance!
Like us on
Facebook
and we promise to "love you back"!
Capt. Kris Kelley
Castaway Lodge
1-888-618-4868
www.seadriftbayfishing.com
Facebook: Castaway Lodge