Castaway Lodge Seadrift Report
By Capt. Kris Kelley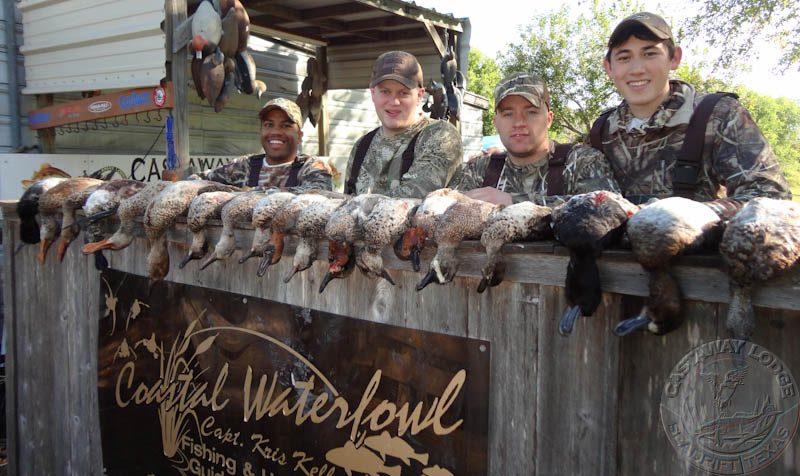 Not much to report on the fishing scene despite quite a bit of effort over the last couple of days. Capt. James Eastep reported slow action trying to catch back up with the fish after the rough weather of late. We've been seeing a few coming off of duck hunts but getting a hook in them has been another story. We look for fishing to pick up in between fronts and it's just a matter of time before we dial them back in.
We had a short-lived reprieve from the extreme high water levels of the last couple of weeks as the strong cold front pushed some water out of the bays. As winds backed down though, tides rose again slightly. Back to back fronts should continue the trend of lowering water levels moving forward and that's something we are certainly keying on. Land surfaces are just wrotten after being covered in water for weeks, a dry out will be welcome.
Duck and Goose Hunting
We picked up strong concentrations of Redheads with a smattering of puddler's here and there. After the front, we hit a pretty good trend of "slick off" mornings with light hunting pressure that just didn't do us any favors. We managed to pull some decent shoots on the morning trips but afternoon hunts were strong every day. We welcomed guests from as far away as Ca. and as close as Houston/Austin over the big week.
We are seeing a lot of geese in the county but they've been wide ranging with tough set ups given the amount of rain we've had. We've made a few runs at them with mixed results but expect them to "set-up" for some very strong hunts and we like the numbers we are seeing so far.
Capt. Matt Raley in WI reported things freezing up which hasn't happened over the last couple of years. We are looking for more strength in the migration and more mixed species building over the duck split. Capt. Matt will be migrating this way shortly and we always look forward to having the "Yankee" working with us in our second half.
We hope everyone had a wonderful and safe Thanksgiving and want to thank all of our guests that continue to make Castaway Lodge a special destination.
Check dates and inquire at
http://www.seadriftbayfishing.com/Calendar
Like us on
Facebook
or Pin us on
Pinterest
and we promise to "love you back"!
Capt. Kris Kelley
Castaway Lodge
1-888-618-4868
www.seadriftbayfishing.com
Facebook: Castaway Lodge
Pinterest: Castaway Lodge