Castaway Lodge Seadrift Report
By Capt. Kris Kelley
Back Lakes Beat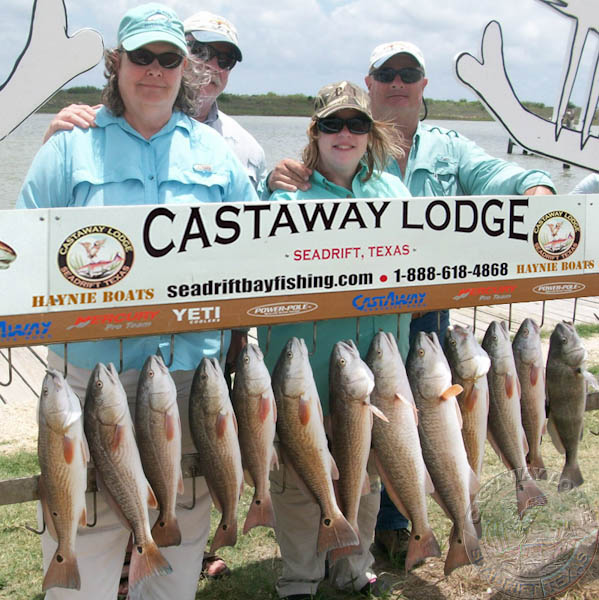 Higher salinity levels and lingering cold snaps has really delayed grass growth in a lot of back lakes venues. Mid-April we should have began seeing grass growth starting to mat up on the water surface in many areas. Even with low water of late, we haven't seen this matting to date. That along with observations of minimal or at best moderate grass growth is keeping alot of areas behind the curve.
This is making the intercept of roaming and foraging schools of Redfish and Black Drum more accessible and visible. While the transition in grass growth is delayed, it will catch up sooner or later. In the near term, however, we continue to have excellent catches of Redfish with visibile schools working over emmergent grasses and mud pockets left by minimal grass growth. There are also some solid Trout working the grass and topwaters can be the best method of hooking up. This tactic produced a recent tournament sweep for us and should continue especially during the big winds of late. Our preference is to work the area by airboat which allows us to "leave no trace" of our presence in this unique environment.
Schools of Black Drum have been hit and miss for us but they continue to frequent the back country providing excellent table fare and memories on the end of a rod.
Like us on
Facebook
or Pin us on
Pinterest
and we promise to "love you back"!
Capt. Kris Kelley
Castaway Lodge
1-888-618-4868
www.seadriftbayfishing.com
Facebook: Castaway Lodge
Pinterest: Castaway Lodge