Castaway Lodge Seadrift Report
By Capt. Kris Kelley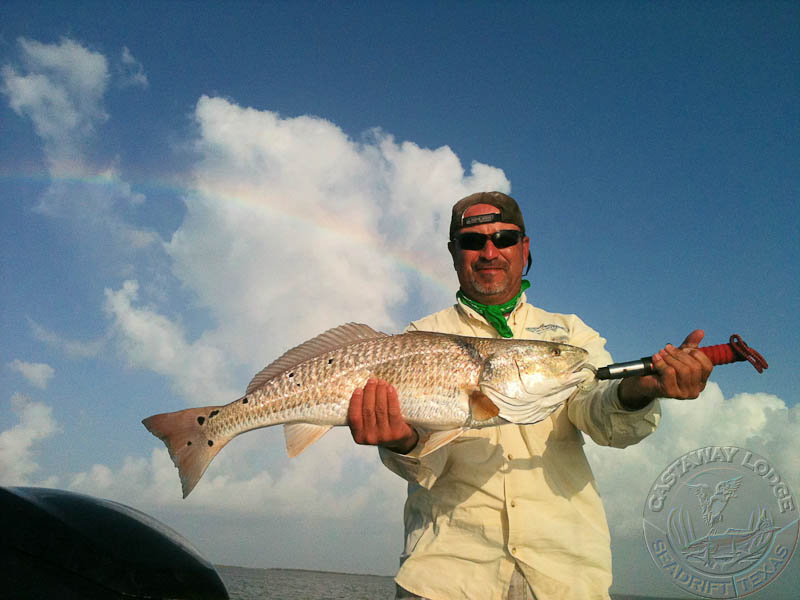 Lead photo taken by Capt. Doug tracking down the end of the rainbow for big Redfish on Saturday.
As we round out the month of August I looked back over the last week reflecting on the meaning of these trips to our guests. It struck me that this was a special week for a lot of folks. We had dads fishing with their college bound children; family groups coming together for the first time in years; a bachelor party for a soon to be newlywed; and friends coming together to make a mark in the artificial division of a tournement. I had to take my hat off and ponder this for a minute and appreciate that we were chosen as the destination for these special trips. As I approach the 20 year mark here on the water in Seadrift I hope we have earned the trust that brings these choices to us. We've certainly worked hard through the ups and downs evolving into the destination that are all things Castaway Lodge and we appreciate the opportunity to fish with everyone.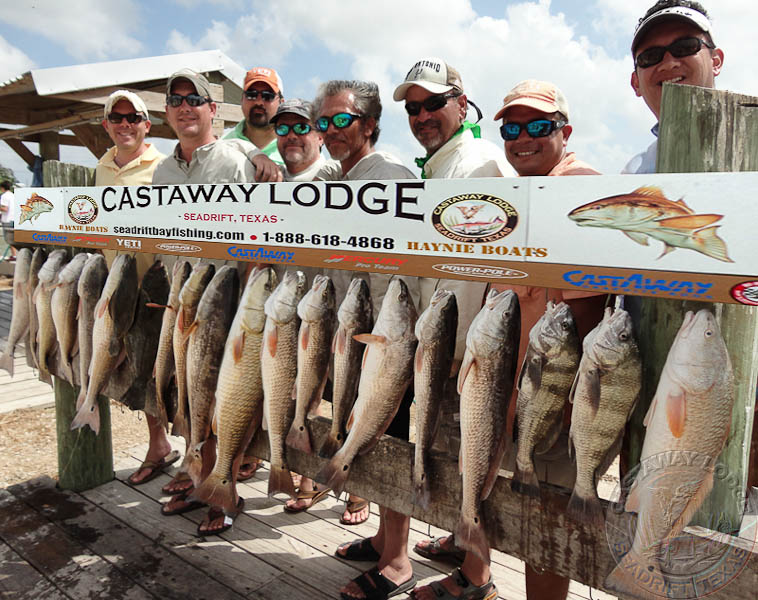 Big Bay Horizons
Puffy winds and ugly water continues to drive us shallow in search of Redfish and the occassional Black Drum. That's a loop we've seen before here in August and the refreshing wind shifts to the North are just around the corner in September. As predominant winds change direction from South to East and Northerly, we'll be looking for shad and other bait migrations to begin making their way from the upper end of the bay toward the Gulf. We're already seeing large shad concentrations on the move which has been keeping Capt. James C. deep in the Redfish action. As these bait migrations begin in concert with shifting winds and weather we'll be looking for Trout action mixed with Redfish and Black Drum over area shell reefs. This will slowly work its way South toward the First Chain of Islands and Mesquite Bay covering the West Shore reefs of SAB along the way.
Little Water
Small back lakes and shallow bays will see fish tighten up in their schooling tendencies as the serious search for a few extra pounds will have them working the mud pocket buffet. Freshwater inflows of late have helped to bring salinity levels down and the nutrient rich inflows have helped the Blue Crab and other finfish populations up tick. Improving food chain evolutions are critical to the health of any fishery and we are pleased so continued health in the bays and back lakes.
We hope you have a greet week, come see us when you get a chance.
Like us on
Facebook
and we promise to "love you back"!
Capt. Kris Kelley
Castaway Lodge
1-888-618-4868
www.seadriftbayfishing.com
Facebook: Castaway Lodge